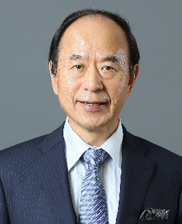 1. Message from the President
This is Obinata who was assigned as the President of Japan Vacuum Industry Association this time. Major "changes" in politics and economics are going-on in the world. USA comes into collision with China by the economic policies in wide range of area from iron and steel to high-tech products under "America First" policy of Trump Administration, and this situation leads to worry of the trade war. "Populism", which became conspicuous, destabilizes government in Europe. And it is definite that the United Kingdom will withdraw from the EU at the end of 2019, the economic environment is uncertain, and it is impossible to expect future outlook. Therefore, due to the deterioration of the export environment and concern about the appreciation of Japanese yen, it seems that there are many cautious views on the future despite the favorable business circumstances surrounding our association.
Meanwhile, as bright news, the neighboring country South Korea has started a conversation with North Korea after the opportunity of Pyeongchang Olympic Games and continues negotiation so as to put an end to the long history of conflict. I sincerely hope that the denuclearization of the Korean Peninsula, which is indispensable to the peace of East Asia, will be realized.
And now, it is an urgent task of mankind to avoid "exhaustion of limited energy and natural resources". In order to suppress energy consumption that continues increasing, while capturing renewable energy well, aiming at realizing "an efficient and comfortable society" is the concept of "a smart society". An era is about to finally come that enables disaster prediction, advanced medical service, IT (scientific) agriculture, automatic driving, etc. through technological innovations such as electric cars, IoT, cloud, big data, artificial intelligence (AI), high speed data processing and communication.
By the way, key technologies indispensable for realizing "a smart society" are "small size, high speed, high efficiency, large capacity, low power consumption" such as high-performance semiconductors and high-function electronic devices, and there are a lot of expected themes for vacuum technology. In addition to this, vacuum technology is also indispensable for massive accelerators and gravitational wave measurements that clarify the root of matter and the mystery of the birth of the universe even in the field of basic science research. Coincidentally this year, a planning of the mega project "International Linear Collider (ILC) Construction Project" that elementary particle physicists around the world are eagerly waiting for has finally come to an conclusion. I personally wish that ILC will be built here in Japan, and furthermore JVIA will be able to contribute something to the historical event.
Vacuum technology that has supported the development of society became an important fundamental technology that supports all industries, advanced research and analysis, etc. The Vacuum Industry Association founded in 1985 has aimed "to contribute to the world with vacuum technologies", and has been committed to statistics, human resource development, standardization, exhibitions, public relations activities and others. Based on thirty-three years activities of previous members, the Japan Vacuum Industry Association has become a general incorporated association from a voluntary association on May 31, 2018. On this occasion, I sincerely wish that our association will contribute more to the development of society, be recognized more widely and deeply by the public, and that benefits will be distributed to all members. I would like to ask our members for their continued and further support and encouragement in the future.
2.JVIA'Outline
Established: July 1985
Total Membership 111
Regular Member:51
Associate Member:50
Special Member :10
Mission
JVIA(Japan Vacuum Industry Association) is the organization who consists of the company which is performing manufacture or sale of vacuum equipment in Japan.
The purpose of activity is performing statistics investigation of vacuum apparatus, holding of a vacuum show, standard establishment and use development, etc., and expanding the vacuum industry.
Directors
President:Mr. Hisaharu Obinata (Exective Adviser of ULVAC,Inc.)
Vice President:Dr. Makoto Shinohara (Director of Shimadzu Corporation )
Vice President:Mr.Junrou Sakai(President of CANON ANELVA Corporation)
Vice President:Dr. Manabu Tsujimura (Director Senior Managing Officer of Ebara Corporation)
Vice President:Mr. Tadashi Mashimo (President of Shinko Seiki Co, Ltd)
3.2018 Organization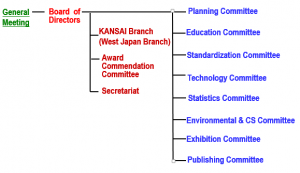 4.Activities
Holding of the Largest Vacuum Show in the World,
Publishing of 「Vacuum Journal」,
Holding the Basic of Vacuum Technology School,
Certifying of Vacuum Engineer Qualifications,
Vacuum Equipment Statistics,
Standard Establishment, Holding Lecture Meeting etc.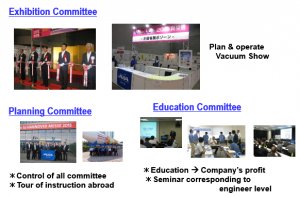 5.JAPAN VACUUM SHOW VACUUM 2018
Organizer : Japan Vacuum Industry Association (JVIA)
The Japan Socity of Vacuum and Surface (JVSS)
Establishment : Spring of 1969
Date September 5th(wed) to7th(fri) 2018
Venue PACIFICO Yokohama
Exhibit Profile:
Vacuum pumps, Vacuum measuring instruments,
Vacuum components and materials,
Other vacuum utilization devices, Services.
Another Programs : Lecture Meeting and Seminar
In 2015, Keynote Lecturer was Professor Amano,
Nobel Prize in Physics.